What is "affray" meaning under Australian Criminal Law? Generally, people get the criminal conviction of affray when they behave in a violent or threatening manner in a public or private place. The Prosecution or the person guilty of affray can deal with affray in the District Court.
Affray involves violent behaviour causing disturbance of peace, where even a bystander might reasonably be expected to be afraid. A two-sided brawl, self-defence, road rage, fist fight, or yelling and threatening to punch someone can result in affray. This article discusses affray meaning in New South Wales (NSW).
Affray Meaning in NSW
The Crimes Act 1900 (NSW) contains information about the serious criminal offence of affray in Section 93C. Under this Section, affray meaning involves using or threatening to use unlawful violence towards another person. These acts of violence or threats of violence must be serious enough to cause a person of "reasonable firmness" to fear for his/her personal safety.
In summary, a person will be guilty of the offence of affray if:
The person uses or threatens unlawful violence towards another person,
In a private or public place, and
The behaviour of the person would cause a person of "reasonable firmness" to fear for their personal safety.
Understanding affray meaning requires an understanding of each of the elements stated above.
"Uses or Threatens To Use Unlawful Violence"
Unlawful violence consists of any sort of violence not excusable by law. However, Section 93C of the Crimes Act states that the use of words alone will not qualify as unlawful violence as the behaviour must also include some form of physical action.
Merely possessing weapons in addition to words does amount to unlawful violence. The weapon has to be visible or held openly. In addition, throwing objects can amount to unlawful violence even if the object does not hit anyone.
The accused's intention at the time of the offence is not a vital element of affray. The prosecution only needs to prove that the defendant was aware or was reckless to the fact that they intended to use or threaten violence.
"In a Private or Public Place"
People often misunderstand affray as an offence that parties can commit only in a public place because the offence falls under Public Order offences under the Crimes Act. However, while the offence of affray often occurs in a public place, one can actually commit the offence in a private place too. In NSW, a person can be guilty of affray even in a private place.
"Causes a Person of Reasonable Firmness to Fear for Their Safety"
The law does not provide a legislative definition of a "person of reasonable firmness". However, Courts have recognised this person to be an ordinary or average person who is neither especially fearless nor courageous. Fear, on the other hand, means something more than nervousness, discomfort or annoyance. It must make the reasonable person feel terrified for it to result in affray.
Does a Person of Reasonable Firmness Have to Be Present for Affray to Occur?
No. In affray cases, whether or not a person of reasonable firmness was present at the time is irrelevant. Section 93C provides that no reasonable person "need actually be, or be likely to be, present at the scene."
However, should there be people present at the time, they can be relevant to the Court's determination of whether a person of reasonable firmness would have feared for their safety.
Affray Meaning and Penalties
Affray carries a maximum penalty of up to 10 years' imprisonment. It is a serious offence and an offence against the public order to protect the peace.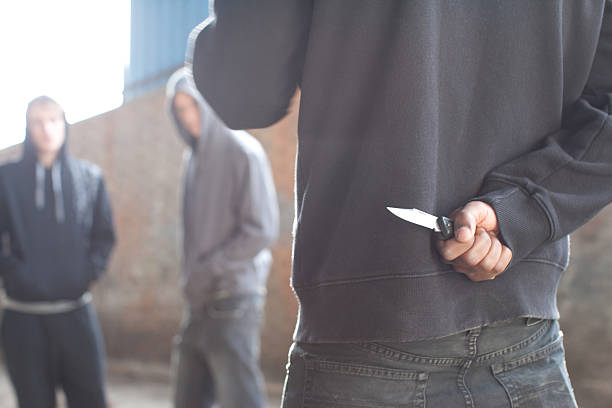 Affray Versus Other Offences
There are some other offences that are similar or closely-related to affray, with their elements often interchanged with affray. These include:
Common assault. Common assault falls under Section 61 of the Crimes Act. It is when a person physically attacks another person, but does not cause an injury that could elevate the charge to bodily harm or grievous bodily harm. Common assault acts include spitting or threatening to attack another person. This offence holds a maximum penalty of 2 years' imprisonment.
Violent disorder. Although violent disorder and affray may have a number of similar elements, they are significantly different. Violent disorder involves three or more people, and parties may not necessarily direct the violent behaviour towards another person or people. It can also be directed at property. This offence falls under Section 11A of the Summary Offences Act 1988 and carries a maximum penalty of 6 months' imprisonment.
Riot. This offence falls under Section 93B of the Crimes Act and involves a group of twelve or more persons with a common purpose, whose conduct together would be sufficient to cause a person of reasonable firmness to fear for their safety. Riot carries a maximum penalty of 15 years' imprisonment.
This case involved a member of the Comancheros motorcycle club, who happened to be in the same flight as the president of the Hells Angels motorcycle club. After the plane landed at the airport terminal, a fight broke out between members of the two rival motorcycle clubs. An unknown person stabbed a Hells Angels member, causing death of the latter.
Mr Aouli did not engage in physical violence or actually cause any injuries to anyone. However, he followed the instructions of his club president to arrange for more Comancheros members to go to the airport. He did so by making phone calls before and after the flight.
The Court found that significant fear undoubtedly engendered members of the public. The offender committed the offence of affray by engaging in conduct with nine of his Comanchero associates. The conduct struck fear in a significant number of members of the public (mostly children and elderly people) in a place where they were entitled to feel safe and secure.
The Court emphasised that it cannot be ignored that the offender played a role in having further Comanchero members go to the airport, adding numbers to the five members who were already on the flight. The Court regarded his actions as a "matter of quite some seriousness".
Mr Aouli was charged and he plead guilty to the offence of affray. He was sentenced to 2 years and 5 months' imprisonment for the affray charge.
The Court expressed that "the selfish and mindless arrogance of those who perpetrate extreme levels of violence for their own ends with complete disregard for others warrants the strongest condemnation. This includes those who are prepared to associate themselves with such violence, even though not directly participating."
The Court concluded that whilst the offender did not actually inflict any actual violence, his actions beyond reasonable doubt, contributed to the significant fear engendered in members of the public. Hence, he should be punished and made accountable for his part in the affair.
Seeking Legal Advice
Affray is a serious offence. If you are charged with the offence, we highly advise you to seek legal advice before your legal matters get out of hand.
JB Solicitors has a leading team of experienced lawyers that can offer you legal representation and other legal services for your situation. We can further explain affray meaning as well as explain defences that may be raised against the offence. We ensure that our client's legal issues are resolved.
Do you have any more queries about affray meaning? Contact us today.