A work visa lawyer can help people get a visa to study or obtain employment in a foreign country without gaining permanent residence status. Working abroad may pose a challenge for most people since they need a residential status. This may take years depending on the country they want to work in. However, there are alternatives for people who just want to work or study abroad as a non-resident. 
A work visa lawyer can also make sure that visa applications are handled as soon as possible. They also make sure that they can still represent clients if they are having problems with the application processing phase.
Australia's immigration regulations are intricate and dynamic. Hence, if an applicant makes a mistake they may be disqualified from applying again. Additionally, they may risk losing the money that was paid for all application-related expenses.
Common Types of Work Visas (Temporary and Permanent)
Temporary Skill Shortage (Subclass 482)
Employers can fill labour gaps due to a lack of qualified workers in Australia by hiring workers with a 482 visa.
Temporary Work Visa (Subclass 400)
People can work in Australia for up to three months in a highly specialised position with a temporary work visa. In certain cases, employers may request overseas employees for a lengthier stay of up to 6 or 12 months.
Skilled Independent Visa (Subclass 189)
People may receive a 189 Visa if they have a satisfactory skills assessment and their minimum points pass mark of 65. This is true even if they don't have an Australian employer sponsoring them. Overseas workers can permanently live, work, and study in Australia with a skilled independent visa.
A Nominated Visa allows people to live, work, and study permanently in Australia. People who want to qualify for this visa should:
Be sponsored by an Australian State or Australian government
Have the necessary skills assessment
Meet the minimum points pass mark of 65
Skilled Work Regional Visa (Subclass 491)
A Skilled Work Regional Visa allows people to live and work in a remote/sparsely populated part of Australia for up to five years. People are eligible for this visa if an Australian state or territory designates them as skilled workers. 
How Can Work Visa and Immigration Lawyers Help? 
1. Knowledge of the Law and Procedures
Lawyers are the most qualified professionals when dealing with immigration and overseas work arrangements. Some people may end up with cancelled or refused applications for a work visa because of a lot of reasons. Did they skip a step? Maybe they were also missing a valid document? Whatever the case, lawyers can uncover potential and foreseeable issues that may affect a visa application.
2. Lodge Applications and Supporting Documents
In relation to the section above, a work visa lawyer may take over the application procedure and lodge applications on behalf of their clients. Aside from this, they may also anticipate any legal procedures that are needed in the application procedure. Here are some common things to consider for visa applications:
Visa class selection
Job description
Answers on forms
Appropriate forms
Timing of the application
Some people may find it difficult to adhere to dates and protocols for correctly completing and submitting applications. One incomplete or inaccurate application could lead to a rejection, delay, and further charges. A competent lawyer will draft a written submission to accompany applications that will:
Present their client's case
Highlight the advantages of their client
Address any potential problems in the application
Additionally, a migration lawyer will be able to inform you of your options, especially in complex situations when tactics become crucial. These lawyers most likely have seen all kinds of cases and will know what approach or precautionary measures to take. That's why it's important for people to consult with a work visa lawyer if they want to pass the right applications on time.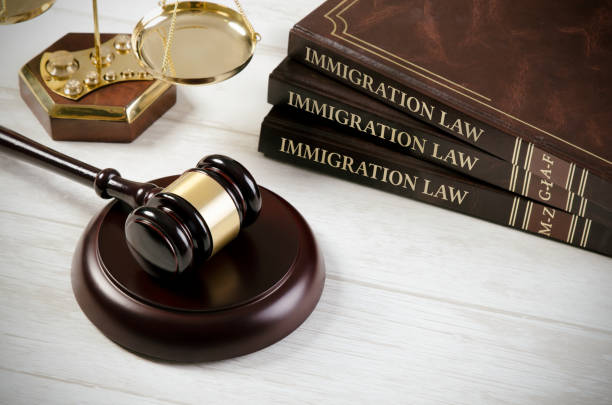 3. Dealing With Legal Matters
Legal matters may arise within visa applications like:
Invalid passports
Incomplete forms for applying for a visa
Character requirements for visas
Lack of Documents
Allegedly falsified documents
Health requirements
Financial requirements
Failure to respond or supply more information
Failure to adhere to these basic requirements will result in legal matters escalating to court. What if there were no falsified documents in the first place? Was the passport registered properly? What if the doctor misdiagnosed the overseas worker? These are only few of the many legal hurdles that a person may encounter when they want to work abroad. 
Work Visa Application Process
1. Pre-Visa Application
This primarily consists of choosing what is the most suitable type of visa for a person. A work visa lawyer may ask their clients questions regarding their personal situations in order to find the most suitable employer sponsored visas for them.
2. Post-Visa Application
This step mainly involves following up with the Department of Home Affairs (DHA). Although it is not mandatory, lawyers will still ensure that all documents are filed accurately and on time with the DHA. Additionally, lawyers will also provide timely updates to their clients about their application status.
3. Final Decision
This step involves finalising any other requirements and providing the client with their approved visa after a decision is made by DHA. A work visa lawyer will also explain if their client's visa is denied. However, these lawyers will still find ways to see if it's possible for their clients to get a reapplication. Lawyers can also help clients appeal the decision of the DHA regarding a denied visa application.
Importance of Seeking Legal Advice
JB Solicitors is a law firm that offers immigration law and aids clients in successfully lodging their working visa applications. Our team can help troubled and confused clients with choosing the right type of visa for them.
We may also represent clients in court and help clear up any procedures or misunderstandings about their visa applications. Contact a work visa lawyer today.