What are skilled occupation lists? View official Skilled Occupation Lists on the Home Affairs website: https://immi.homeaffairs.gov.au/visas/working-in-australia/skill-occupation-list
In Australia, the Skilled Occupation Lists (SOL) are official lists that specify the occupations that are in demand and eligible for skilled migration to the country.
These skilled migration occupation lists are an essential part of the General Skilled Migration (GSM) program, which allows skilled workers from overseas to apply for visas to live and work in Australia permanently.
According to the Department of Home Affairs (DHA) these are the following main Skilled Occupation Lists:
Medium and Long-term Strategic Skills List (MLTSSL)
Short-term Skilled Occupation List (STSOL)
Regional Occupation List (ROL)
The Skilled Occupation Lists are important as the eligibility for certain visa types depends on these lists. Unless you are coming to Australia on a tourist visa, student visa, work holiday visa or as a dependent, the SOL is extremely relevant to you. Moreover, the regional occupation list may be relevant if you are looking to move to regional areas.
When an applicant wishes to begin their migration journey to Australia, the first step we recommend is that they check whether they have an eligible skilled occupation under the SOL that they can nominate.
What Are Skilled Occupation Lists: Medium and Long-term Strategic Skills List
The MLTSSL includes occupations that are considered to be in high demand in Australia and are expected to remain so in the medium to long term. Skilled workers with occupations listed on the MLTSSL may be eligible for a range of visas, including the subclass 189 (Skilled Independent visa) and subclass 190 (Skilled Nominated visa).
Eligible Skilled Occupations Lists: Short-term Skilled Occupation List
The STSOL includes occupations that are also in demand but are typically considered to be needed on a shorter-term basis. Skilled workers with occupations listed on the STSOL may be eligible for visas like the subclass 491 (Skilled Work Regional (Provisional)) visa and subclass 494 (Skilled Employer-Sponsored Regional (Provisional)) visa. Occupations on the STSOL can also be considered for Skilled Nominated Visas.
The DHA's list provides the complete overview of the kinds of skilled and work visas that individuals with various occupations can be eligible for.
How to Access and Use the Skilled Occupation List Australia?
The skilled occupation lists can be daunting at first if you are unsure how it works. In this section we provide an overview on how to access and use these lists.
Step 1
Visit the Department's website to view the entire skilled occupation list. Click here.
Step 2
Secondly, search for your occupation. You can either type in the title or the ANZSCO code. The Australian and New Zealand Standard Classification of Occupations classifies occupations in the Australian and New Zealand labour markets. Each occupation under the SOL will have a unique ANZSCO code.
For instance, the code for "Solicitor" is 271311, whereas the code for "Journalists and other writers NEC" is 212499.
Step 3
After you find your occupation on the list, you will receive a list of visas that your particular occupation is eligible for. For instance, while some occupations may not be eligible for the Subclass 189 visa, they can still be able to apply for the Subclass 190 visa. Moreover, some occupations can apply for the Subclass 186 (Employer nomination scheme) visa.
What Are Skilled Occupation Lists: Example on How to Understand Information Given on SOL
For example, consider the image below. We provide an example of one of the most popular occupations with high demand in Australia – Registered Nurse (Aged Care).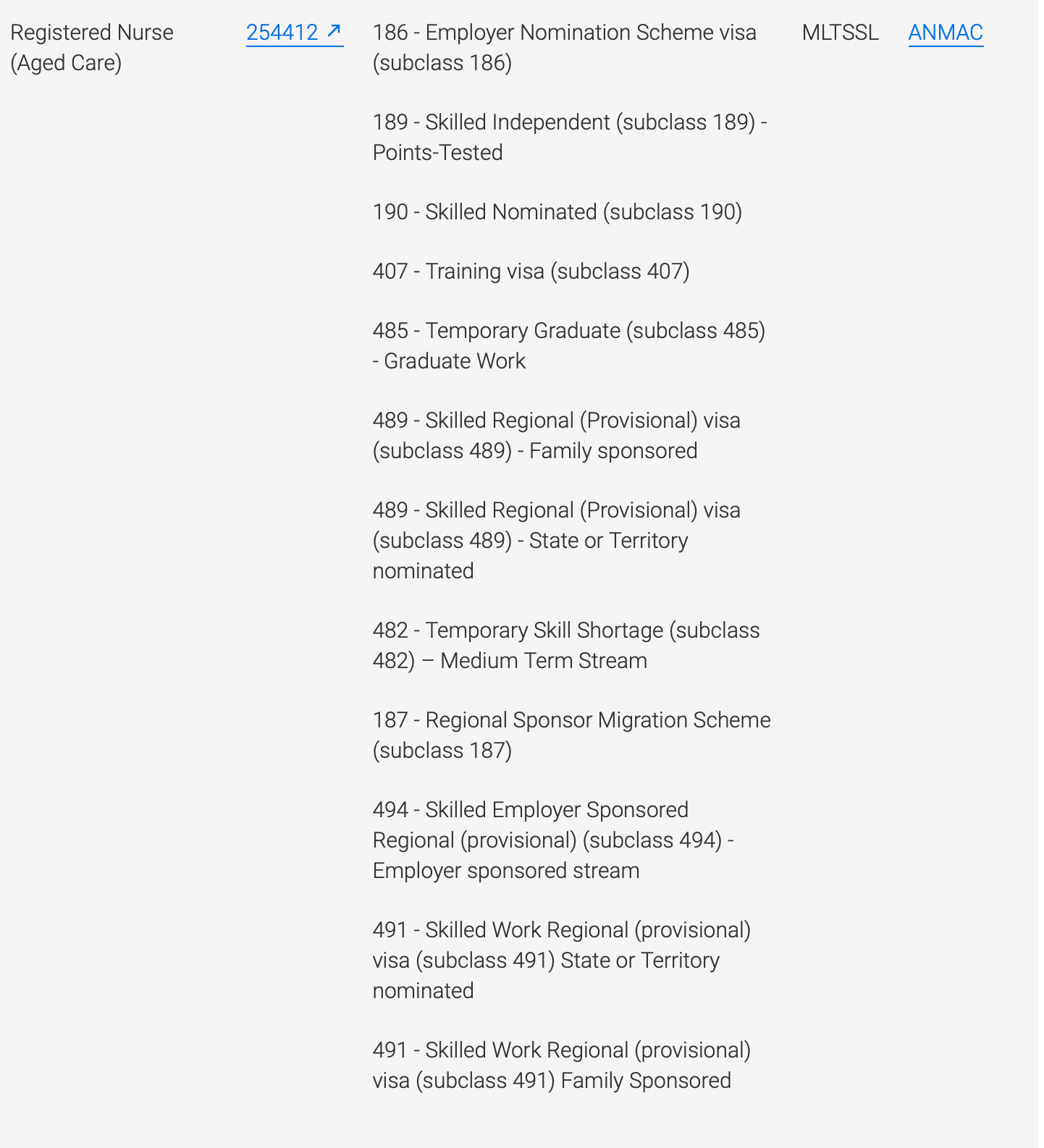 The occupation code for this occupation is 254412. This is the ANSCO code for the occupation.
As you can see, this occupation falls under the MLTSSL list. According to the DHA, parties who practice as Registered Nurses can be eligible to obtain any of the visas from the list given in the image. This includes skilled permanent residency visas such as Subclass 189, as well as employer-sponsored skilled visas such as Subclass 482.
Moreover, on the right corner, you can see the term ANMAC. This refers to the body that assesses the skills of an applicant. Depending on the occupation, the skill assessment body will differ. Read the Section below for more information on this.
It's important to note that the specific occupations on these lists can change periodically, depending on Australia's economic and labour market needs. The Department of Home Affairs regularly reviews and updates the Skilled Occupation Lists to reflect current demands.
What are Skill Assessment Bodies?
Skill assessment bodies or skill assessment authorities check whether the skills of an individual meet the standards that the skills set for any relevant occupation. In Australia, there are different skill assessment for different occupation groups. View the list below for some of these authorities:
This link consists of the all the relevant skill assessment authorities in Australia: https://immi.homeaffairs.gov.au/visas/working-in-australia/skills-assessment/assessing-authorities.
Some of the popular ones include:
When you check your occupation on the SOL, you will be able to view the relevant skill assessing authority beside the ANZSCO code of the occupation. You have to complete a skill assessment for the occupation you intend to nominate for your skilled visa.
As explored, the skill assessment body for legal practitioners and legal admissions authority will differ from that required for medical practice professionals or civil engineering draftsperson or an electronic instrument trades worker.
Seek Advice from Our Immigration Lawyers for Skilled Lists
Whether you are a sponsor looking for skilled employees, or a skilled worker looking for visas, our leading migration team can provide you with the right advice. We have a wealth of experience in handling a variety of migration law matters.
Our lawyers have helped clients obtain:
skilled independent visas,
skilled nominated visas,
work sponsorship visas,
regional sponsorship visas,
partner visas,
temporary skilled visas,
student visas,
business investment visas.
We often help clients from the following occupations groups and categories under the medical and education industries:
pre-primary school teacher,
early childhood pre-primary,
childhood pre-primary school,
private tuition teacher
registered nurse medical,
registered nurse community health,
registered nurse mental health and family health,
registered nurse developmental disability,
registered nurse medical practice,
primary health organisation manager, etc.
Contact our team today.