An immigration law firm has lawyers and professionals who are knowledgeable and experienced in the field of immigration law. Immigration lawyers and professionals are well-versed with the rules, regulations, and procedures involved while migrating to a particular country. They also help clients with:
Various visa options available to them
Preparing and submitting visa applications
Representing clients in immigration hearings or appeals; and
Providing legal advice and guidance throughout the immigration process.
Immigration law firms often work closely with government agencies, particularly the Department of Home Affairs (DHA). This ensures that their clients' applications are accurate, complete, and compliant with immigration laws and regulations. Read on to know more about what is an immigration law firm and how it can help with complex immigration matters.
Immigration Law Firm: How Can They Help?
Initial Consultation
The first step in dealing with an immigration law firm is to schedule an initial consultation. This meeting allows you to discuss your immigration goals and concerns with the firm's lawyers. During the consultation, they will carefully assess your situation, including your eligibility for various visa options and any specific circumstances that may impact your case.
Evaluation and Strategy Development
Based on the information gathered during the initial consultation, a law firm will evaluate your case and develop a tailored strategy. This strategy will outline the most suitable visa options for you, along with the necessary steps, timelines, and supporting documentation required for a successful application.
Application Preparation and Lodgement
Once the strategy is developed, a law firm will assist you in preparing and lodging your visa application. They will guide you through the completion of application forms, ensuring accuracy and completeness. The firm's lawyers will also help you gather the required supporting documents, such as identity proofs, financial records, and relevant certificates.
Case Management and Representation
Throughout the visa application process, a law firm will actively manage your case. They will keep you informed about the progress of your application, respond to any requests or inquiries from immigration authorities, and provide regular updates. If necessary, the firm's lawyers will represent you in dealings with government agencies, ensuring your rights and interests are protected.
Visa Decision and Post-Approval Support
Once a decision is made regarding your visa application, the immigration law firm will notify you promptly. The firm will guide you through the next steps, such as visa issuance and any additional requirements, like health examinations or police clearances. They can also provide post-approval support, assisting with matters such as visa conditions, extensions, or citizenship applications.
Assistance With Appeals
An immigration lawyer is also able to assist with appeals to the the Federal Court of Australia and the High Court of Australia.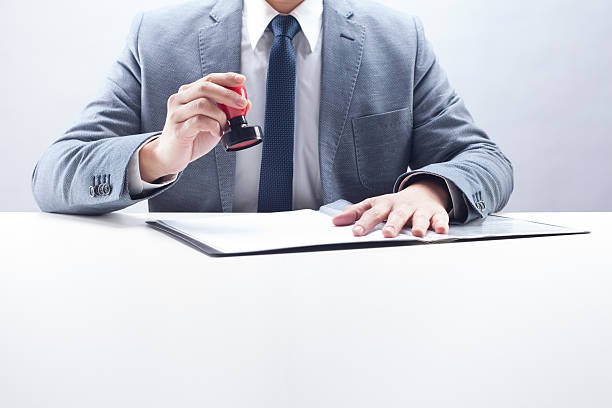 What Visas Can a Law Firm Help With
An immigration law firm in Australia can assist with a wide range of Australian visas, catering to various immigration purposes. Here are some common types of visas that an immigration law firm can help you with:
Partner Visas
Are you in a committed relationship with an Australian citizen, permanent resident, or eligible New Zealand citizen? A law firm can assist you in applying for partner visas. These visas allow you to join your partner in Australia and can lead to permanent residency.
Skilled Visas
If you possess skills and qualifications that are in demand in Australia, a law firm can help you navigate the skilled visa options. This includes visas such as the Skilled Independent visa (subclass 189) and the Skilled Nominated visa (subclass 190), which are designed for skilled workers who meet specific criteria.
Student Visas
If you wish to study in Australia, an immigration law firm can guide you through the process of obtaining a student visa. They can assist with visa applications, documentation, and compliance with visa conditions during your study period.
Work Visas
For individuals seeking employment opportunities in Australia, an immigration law firm can provide guidance on various work visa options. This includes visas such as the Temporary Skill Shortage visa (subclass 482) and the Employer Nomination Scheme visa (subclass 186).
Business and Investment Visas
If you are an entrepreneur or investor looking to establish or invest in a business in Australia, an immigration law firm can assist you with business and investment visa applications. This may include visas like the Business Innovation and Investment visa (subclass 188) or the Business Talent visa (subclass 132).
Temporary Visas
If you are seeking temporary entry to Australia for purposes such as tourism, medical treatment, or cultural exchange, an immigration law firm can help you explore the relevant temporary visa options and assist with the application process.
Protection Visas
Protection visas are an essential category that an immigration law firm in Australia can assist with. These visas provide protection to individuals who have fled their home countries due to fear of persecution or significant harm.
Updates to Immigration Laws: July 2023
In the 2023-24 permanent Migration Program, there has been a decrease in the number of allocated places for Skilled Independent visas compared to the previous year. The program has set aside 30,375 places for this visa category, slightly lower than the allocation of 32,100 places in the 2022-23 program.
The reduction in the planning level for Skilled Independent visas in the 2023-24 program is a result of the closure of the New Zealand stream of subclass 189 (Skilled – Independent) visas. This change will come into effect from 1st July 2023. The reason behind this closure is the introduction of a new direct pathway to citizenship for Special Category Visa holders who meet the eligibility requirements for citizenship.
Importance of Seeking Australian Immigration Law Services
In immigration law matters, JB Solicitors play a vital role in providing expert guidance and support. They possess in-depth knowledge of immigration laws and procedures. Our immigration law firm ensures that foreign workers receive accurate and up-to-date advice tailored to their specific circumstances. Lawyers at our firm experts with a deep understanding of the intricacies of immigration law whether it's to:
Navigate complex visa applications;
Represent clients in the Federal Circuit Court or in the appropriate administrative appeals tribunal;
Provide assistance with compliance and we bring a deep understanding of the intricacies of immigration law; or
Works with government agencies and accredited specialist or specialists.
Our law firm can submit your visa application on your behalf and lodge it within the specified timeframes to the appropriate authorities. We will actively manage your case and maintain communication with the DHA and update you on its progress.
Contact an immigration lawyer today if you need legal services with Australian immigration law or administrative law.